The Trossachs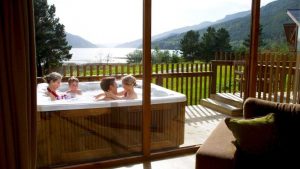 Rob Roy country in cabin comfort
CLICK ON ARROW AT BOTTOM RIGHT OF ARTICLE, NEXT TO 'IN' TO SEE IN FULL SIZE.
Luxury forest lodges on the shores of Strathyre's Loch Lubnaig make an ideal base to explore the wild scenery in the 'miniature Highlands' of the Trossachs, writes Scottish travel editor Katie Wood
The Trossachs encompasses all that's great about Scotland in one small, compact space. Located on the doorstep of our central cities, the area is often described as the Highlands in miniature.
It does straddle the boundary between the Highlands and the Lowlands, and it is a beautiful patchwork of lochs, mountains and charming villages such as Aberfoyle, Strathyre and Balquhidder.
It's fair to say that its shortbread-tin scenery is every bit as popular today as it was more than a century ago, when Queen Victoria and Sir Walter Scott first brought it to public attention.