Katie Wood
Award-winning Freelance Journalist & Broadcaster
Author of 39 travel guidebooks
Holds a Fellowship from the Royal Geographical Society
Former Travel Editor for 'The Sunday Times' newspaper (Scottish edition)
Former Travel Editor for four other UK national newspapers.
Regular contributor to 'The Herald ' – the most-read quality paper in Scotland
Regular contributor to 'Luxury Lifestyle Magazine'
Written on worldwide travel for thirty seven years
Travelled to over 140 countries on all continents
Winner of 'Best Destination Feature on France' in 2015 from the French Tourist Board
Winner of 'Best Travel Feature 2019 'Wall Street Journal'
Author of  'Best new Travel Guide of 1984' from British Society of Authors
Years of TV presenting, script writing and producing on prime time TV on travel programmes such as  'Wish You Were Here' and 'Scottish Passport'.
Following a Masters  degree in English at Edinburgh University, and coming 'Top Student of the Year' in a subsequent 'Communication Studies' diploma, Katie identified a market in travel writing and set off round Europe with a backpack for 18 months, travelling to 26 countries in Europe and North Africa.
Three months after returning she had a contract from Penguin Books and was writing her first book, the award-winning best-seller 'Europe by Train'.
Within a year, it was dubbed 'The Inter Railer's Bible' and was in the Top Ten Best Selling non-fiction books in the UK, and went on to be translated into five languages. She continued to research and write guidebooks for the next 25 years, going on to publish a further 38 titles.
She also worked as Travel Editor on guidebooks for HarperCollins Publishers .
As a resident 'travel expert' on BBC radio and national TV, presenting travel programmes followed in the career path, seeing Katie working on travel classics such as ITV's 'Wish You Were Here' and devising the concept of; writing scripts for, and lead-presenting  in ITV Scotland's BAFTA-nominated travel series 'Scottish Passport'.
In the 1990's Katie supplemented writing around 100 articles of her own per year by undertaking Marketing Consultancy work for bodies such as British Airways, the British Tourism Authority, Visit Scotland and the European Union DGXXIII Dept of Tourism. This ranged in content from market identification and analysis for new products, to environmental tourism assessments, writing and designing brochures and tourism literature, and advising on P.R. and promotional campaigns.
As a Travel Editor for the Daily Express Newspaper Group (Daily Express, Sunday Express, Daily Star, Sunday Star, OK! Magazine), she was responsible for writing, editing, commissioning and running the travel pages over various titles in the group. Previous to that, she worked as the London-based Travel Editor for the UK's best-selling newspaper –  The Sun  –   and before that, as a writer for The Daily Telegraph.
Her freelance travel writing has been regularly published in The Times, The Sunday Times, The Scotsman , The Guardian, Wall Street Journal,  Daily Telegraph, The Independent, The Daily Mail and numerous other newspapers and consumer magazines, such as The Sydney Morning Herald, Marie Claire,  Elle, Scottish Field, and Ideal Home.
She also wrote a column on Health & Beauty for The Daily Mail (https://www.dailymail.co.uk ) for five years.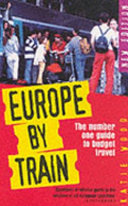 'Europe by Train' ran for over 20 years, and was updated annually. As well as making it into the Top 10 non-fiction books sold in the UK, it was also translated into five languages and sales ran into hundreds of thousands.