A small sample of Katie's 39 books:
Fly Europe
The complete guide to budget airline destinations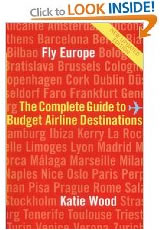 The phenomenal success of budget airlines like easyJet and Ryanair has completely revolutionized the travel industry: fares of under £50 have become commonplace. Between them, the no-frills airlines now carry a staggering 23 million passengers a year to destinations all over Europe, and its predicted that the market will continue to grow over the next few years.
Tourists can choose from a dazzling array of potential holiday destinations – many of which they may know next to nothing about. "Fly Europe" is a practical, easy-to-use guidebook that provides information on 80 budget airline destinations in one volume. Many of the cities the budget airlines fly to are not traditional tourist destinations and are therefore not covered by individual city guidebooks; equally, tourists may or may not need ot want a full-length, overly detailed city guidebook just for a short break.
This book aims to help readers make an informed choice about the best destination to choose; then, once that choice is made and the flights are booked, they will have at their fingertips all the information they need to enjoy a short break in that city.
In the introduction, the author outlines what the various budge airlines have to offer and considers the pros and cons of each company. She employs a star ratings system to show which cities are best for sightseeing, shopping, nightlife, restaurants, the arts, romance and family activities. Then, each city section provides details on transport to and around the city, what to see there and why, accommodation (from budget to luxury hotels), eating out, nightlife and shopping, along with a useful map of the city centre.
---
Richard Arghiris writes… 'Twenty years in print has conferred the status of 'guide-book classic' to Katie Wood's 'Europe by Train'. This 2005 edition contains up-to-date and comprehensive information on all European rail networks – from Morocco to Ukraine. Organised by country, individual chapters focus on what to expect from local trains, stations and facilities. Other essential facts are divulged, including where to eat, sleep and change your money, and how to use public transport. There are also good descriptive sections to help you choose which sights to see.
Specifically geared toward backpackers, 'Europe by Train' is packed with useful hints on more general aspects of budget travel. Detailed advice is given over to how to prepare for your trip. What to bring, which insurance to buy and how much to budget are all examined thoroughly. From tips on travelling by night to hints on tackling Eastern Europe, the author's advice is consistently reassuring, informative and reliable. For anyone planning Inter-Rail adventures, this book is a must. Its healthy emphasis on practicality makes it the ultimate companion for any extensive train trip."
---
Cheap Sleeps Europe
The definitive guide to cheap accommodation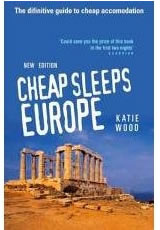 Finding cheap accomodation is always a headache when you're travelling around Europe on a budget. But there are in fact plenty of clean, safe and comfortable options – it's just a matter of knowing where to find them.
In her best-selling, definitive guide to budget travel in Europe, Katie Wood provides the insider information necessary to locate a near inexhaustible supply of accommodation ideas in 31 European countries, including hotels, pensions, student halls and campsites.