Luscious Lucerne
.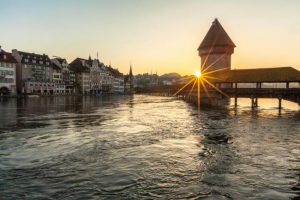 It's tough with Switzerland. It's all so darned beautiful that selecting just one location can have you trawling internet sites till your eyes smart. From drop-dead villages such as Gruyere to the delights of the UNESCO World Heritage vine-clad hills around Lake Geneva, it just doesn't seem fair for one country to have such a monopoly on scenery. All that said, after decades of extensive travels there, if you pinned me to the wall and I had to give one – just one – destination that sums up the best of the country it'd have to be Luzern.
I'm not going to pretend it's a well-kept secret. It's so not. Prime Minister Theresa May and husband Philip are regular visitors for walking holidays and Luzern is the No1 European destination of choice for visitors from China. Lured by the magical scenery, many of them come specifically to see that while stocking up on designer watches in the town's countless expensive watch shops. But, as my conversations with my local Swiss guide revealed, this Asian market is one of extremes.
Their less well-heeled compatriots travel around in coaches that they rent from Greece to save a few quid, and they sleep three-to-a-room (even if they don't know each other) in hotels that they take over in their entirety and staff with compatriots while eating their own cuisine. It's no surprise that these type of tourists aren't much-liked by the locals. Patently the concept of sustainable tourism and spreading money around the local economy hasn't yet caught on in their part of the world…..
This area is the cradle of local hero William Tell; it was also the home of Richard Wagner, and it first made its mark on the British traveller courtesy to none other than Queen Victoria. She brought her own ponies so that she could ride to the top of the 6000ft Mount Pilatus (though, in the event, she was carried most of the way up in a sedan chair – pity the humphers!).
Straddling the River Reuss, the most notable feature of the town are its roofed medieval footbridges, beautifully decorated with 17th century paintings. Old Luzern also has many elaborately painted houses, cobbled squares and a beautiful Renaissance town hall. I was grateful to be travelling in company on this trip so I didn't look like a mad woman when, at every corner, I came out with an involuntary 'ooh and aah'.
Visiting the town's emblem – Lion Monument – involves a long walk up Lowenstrasse, but it's worth it as this is the most touching monument in the city. The 10-metre-long statue of a dying lion carved out of a rock face commemorates the 800 Swiss mercenaries who were killed defending Louis XVI during the French Revolution. It's beautiful, and the expression on the lion's face in his death-throws is surprisingly moving.
We stayed in the beautiful Hotel Schweizerhof Luzern (www.schweizerhof-luzern.ch/en/). Its guest list dates back to 1845 and reads like a who's who of the international elite. Mark Twain, Leo Tolstoy, Roger Moore, Wagner and and singer-songwriter Anastacia are just some of the illustrious names to have resided here. It's a real 'grand dame' and I'd heartily recommend it.
This was a trip with a theme, so we visited the same sights that author Mark Twain took in during his travels here, and climbed the same mountains.
While walking along the lake is marvellous, to really appreciate the spectacular mountain scenery, you should take what's called The Golden Round Trip.
This starts with an historic paddle steamer from Lucerne to the nearby hamlet of Alpnachstad and then you board the world's steepest cogwheel railway up Mount Pilatus (6982 feet). This is a real highlight of any holiday – a 15,150ft stretch of railway, opened in 1889 with a 48% gradient. It takes you to the top of the mountain where the views are spectacular and you can eat a meal or hike, and then descend using the aerial cableway and panoramic gondolas.
On the mountain you can also enjoy Switzerland's longest summer toboggan run, go on a freefall bungee jump-type experience, or enjoy the rope-park – all a bit active after a hearty lunch for me, but fun to watch.
If you buy a Swiss Travel Card (and I seriously suggest you do) you get this excursion half price and free travel on all trains, buses and boats. It can save you a fair chunk. For £242 you get eight days of all this travel, plus free entry to 450 museums. You must buy this in the UK at MySwitzerland.com/rail or swisstravelsystem.co.uk or tel 00800 100 200 30.
I didn't think the excursion to Mount Pilatus could be topped, but the next day I found out I was wrong. We transferred by boat to the beautiful village of Wiggis. In the summer of 1897 Twain resided here and during his stay he described the village as "the charmingest place we have ever lived in for repose and restfulness".
Dominated by a 6000ft mountain, and with lakes and mountains all around, it is truly magical. The cable car up to Mount Rigi allows you to access the mountain and enjoy a meal at the very top in the 200 year-old Hotel Rigi Kulm.
The hiking is pretty steep in some areas so stock up on some fuel at the lovely Chalet Schild (www.chaletschild.ch) which has local delicacies such as the traditional cheese flan made with Alpine cheese.
You get back to Weggis by cogwheel train to Vitznau, and then the boat back.
By this stage we were tired, hot and desperate for a shower, so checking into the fabulous Park Weggis Hotel was much appreciated. But, oh boy – nothing prepared us for the glamour of the place. It is simply one of the most chic hotels I've ever seen. Complete with an Asian-inspired spa with infinity pool, private beach on the lake and wonderful bedrooms, this 52-room historic hotel would be a perfect base for a special occasion. See www.parkweggis.ch
PM May has Switzerland at the top of her holiday list. Whatever your politics, on that decision, as far as I'm concerned, she's got that right.
TRAVEL NOTES
Visit MySwitzerland.com or call 00800 100 200 30.
EasyJet flies from Edinburgh to Basel with prices starting from £26.49 per person.
The Lucerne Museum Card gets you one entry into 11 museums across two consecutive days, at a cost of £25.