Abu Dhabi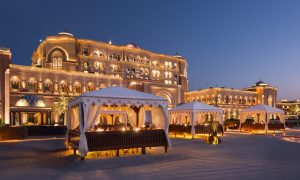 Living in the lap of luxury on visit to Abu Dhabi's Emirates Palace
I LOVE my job. Who wouldn't? You get to meet some incredible people and see some amazing places.
Recently though, it really did just strike me how totally jammy I am. Why?
Because I was lucky enough to stay somewhere that was truly jaw-dropping – the stunning Emirates Palace Hotel in Abu Dhabi.
I was so blown away, I thought I'd dedicate my whole column this week to it (I'll tell you about Abu Dhabi next week).
So, if you want to know what it feels like to stay in a ridiculously swanky place – somewhere that was genuinely built as a palace – read on…
https://www.sundaypost.com/travel/living-lap-luxury-visit-abu-dhabis-emirates-palace/