A Luxury Guide to a Long Weekend in Edinburgh
October 27 2020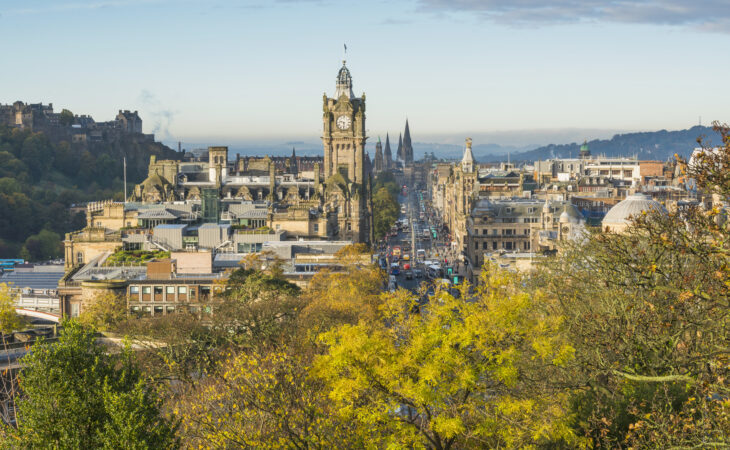 Edinburgh was built to impress. The Scottish capital is a strutting peacock of a city boasting some of the best sightseeing in Europe. Here, in this luxury guide, you'll find well over 1,000 years of history just waiting to bowl you over. At every corner, you're hit by another panoramic view, interesting architectural feature or monument to Scotland's wonderfully rich past. The charming city oozes personality, and although it's home to the world's largest arts festival each August, as a local I love it best in the crisp bright days of early autumn or the melancholic dark days of winter, when dusk begins at 4pm and cold Eastern winds add to its harsh beauty.
Among the city's unique offerings are climbing its own extinct volcano; exploring the winding alleys of the medieval Old Town; and delighting in the Unesco World Heritage Site that is the New Town — which, to clarify, dates back to the mid-18th century. So, descend under the pavement on the Royal Mile to explore the hidden 17th-century world of haunted Mary King's Close, then emerge into daylight and shops selling well-priced, quality cashmeres and fine single malts.

Where to stay
The Balmoral
Scone & Crombie Suite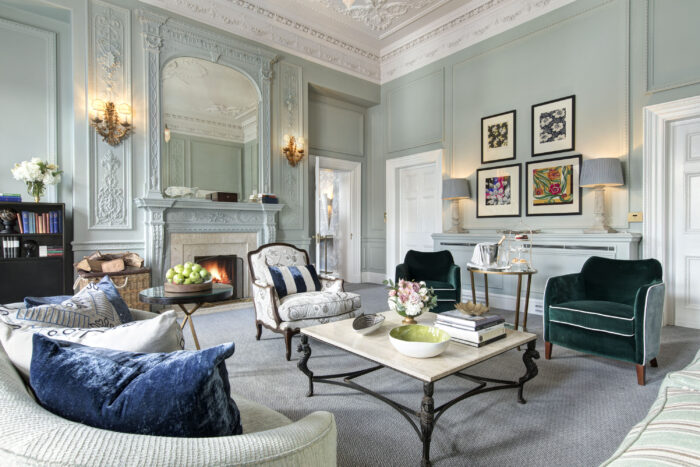 Located at No 1 Princes Street — the main shopping street overlooked by Edinburgh Castle — this Rocco Forte hotel is a famous city landmark, with a signature clock tower that is a key part of the city's skyline. The rooms are palatial, and no trip to Edinburgh is complete without afternoon tea in the Palm Court and dinner in the Michelin-starred, Number One Restaurant. The top suite is the Scone & Crombie Suite — one of the finest in Scotland — which is named after a famous Perthshire palace and a famous castle; both are well worth visiting in their own rights. The two-bedroom suite (with an option to add a third bedroom) boasts a dedicated concierge and floor-to-ceiling windows that allow panoramic views of the historic Old Town.
From $3,100 per night. Contact Siobhan Slater, reservations manager, sslater@roccofortehotels.com, +44 131 556 2414, https://www.roccofortehotels.com
Waldorf Astoria Edinburgh – The Caledonian
Alexander Graham Bell Suite
Edinburgh's grand dame, this beautiful Victorian railway hotel is located in the heart of the West End, directly opposite the Johnnie Walker Experience, Diageo's new five-star attraction. Two restaurants, a gym, a pool and a Guerlain Spa are among the many facilities. Hosting the largest number of direct castle-view rooms of any hotel in the city, the jewel is the Alexander Graham Bell Suite, which pays homage to the local man who invented the telephone in 1876. It sleeps three and, within its 950 sq ft, you'll find a working vintage telephone and beautiful artwork from local artists.
From $1,800 per night. Contact Matthew Lynn, reservations manager, Matthew.Lynn@WaldorfAstoria.com , +44 131 222 8888, https://www.waldorfastoria.com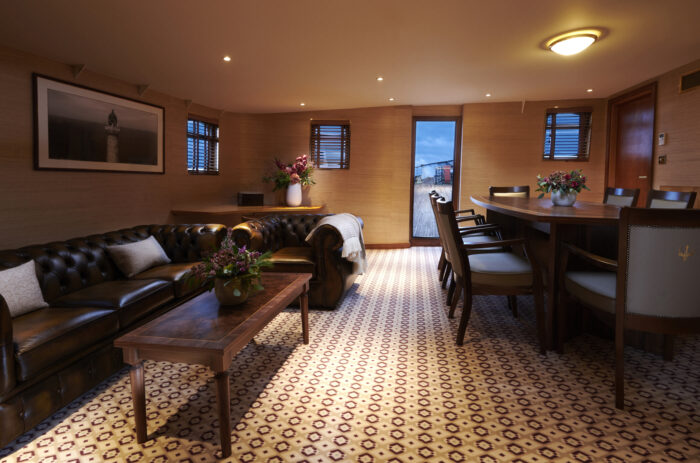 Fingal
Skerryvore Suite
For one of the city's most unique accommodations, head to Edinburgh's vibrant Leith waterfront, home to Fingal, Scotland's only floating luxury hotel. Fingal was originally a lighthouse tender but is now an exquisite, 23-cabin boutique hotel and exclusive-use venue by its owners, the neighboring Royal Yacht Britannia. It recently underwent a $6m refurbishment, making it suitable for its royal pedigree. Anne, HRH the Princess Royal, in her role as Patron to the Northern Lighthouse Board, has spent time on board Fingal; her former quarters have been transformed into the magnificent Skerryvore Suite. It has a separate sitting room and private deck perfect for cocktails, and the super-king-size bed has a headboard with map contours to trace as you drift off. The restaurant serves fine Scottish cuisine, and afternoon tea and cocktails can be enjoyed in the Lighthouse Bar. From $1,500 per night.
Contact Kirsty McKee, guest relations duty manager, reservations@fingal.co.uk, +44 131 357 5000, https://www.fingal.co.uk

Where to eat
The Kitchin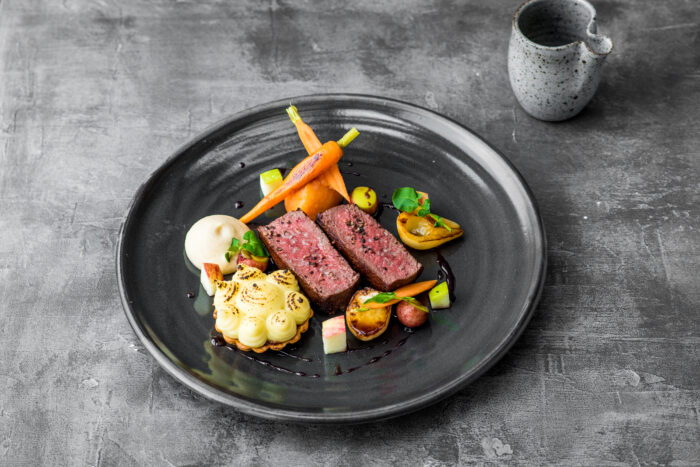 Award-winning Tom Kitchin uses French techniques on the finest Scottish produce in his chic restaurant, located in a converted whisky warehouse on the historic Leith waterfront. The chef of this Michelin-starred restaurant has become a local legend due to his philosophy of 'from nature to plate,' which reflects his passion for championing Scottish products. Before opening his own restaurant, Kitchin trained under the world's best chefs. Among his innovative signature dishes are rolled pig's head with langoustines, roasted loin and braised haunch of roe deer, and salt baked neeps (turnips) with rhubarb and red wine sauce.
The Hawksmoor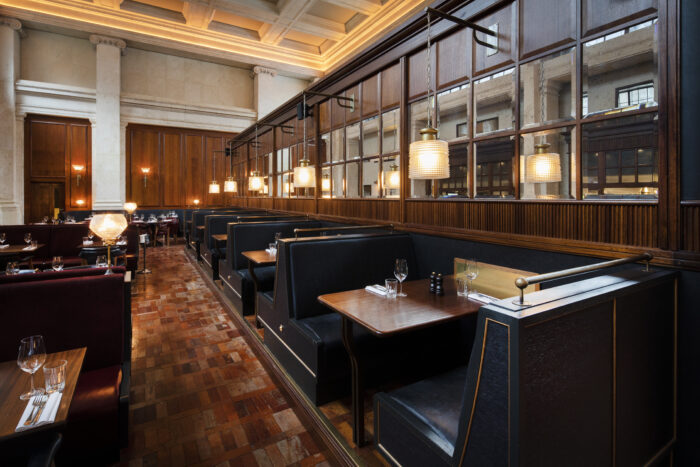 If you're longing for a succulent steak in the country that is home, of course, to the famous Aberdeen Angus, look no further than The Hawksmoor. Does the prospect of chateaubriand and triple-cooked chips make your mouth water? Then you've found your spot. This renowned steak restaurant is located in a palatial former banking hall with Art Deco features and vintage furnishings, and the steak, seafood and decadent desserts are legendary. Go native and try the Eyemouth crab on toast to start, followed by a classic sirloin steak, served with béarnaise sauce, cream spinach and a baked potato. This is also a great venue to sample excellent local Scottish cheeses.
Restaurant Martin Wishart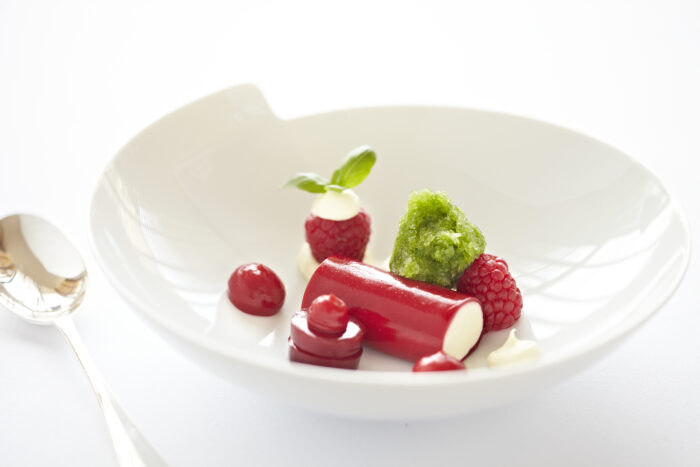 This Michelin-starred restaurant in Leith has earned its star and its dedicated patrons by offering modern, European cuisine that combines oodles of French savvy with the finest Scottish ingredients in an elegant and formal environment. Expect dishes such as seared scallops with apple and endive salad, hare braised in red wine, and lemon tart with macerated raspberries. Restaurant Martin Wishart is known for its gourmet tasting menu, and there is also a vegetarian option available. From the amuse-bouches to the petits fours, each mouthful is a culinary triumph. His sister restaurant in the city center, The Honours, is brasserie-style, more relaxed, and also well worth a visit.
https://www.restaurantmartinwishart.co.uk
The King's Wark
This charming bar and restaurant on the shore in Leith serves food, including excellent fresh seafood dishes, all day. They also serve an especially good Vegetarian Haggis Wellington. The building dates back to the 1400s, when it was a royal residence and the armory of King James I. In 1613, King James VI bestowed the right to keep taverns on the site. Complete with a ghostly presence, this building has stood in the heart of Leith for almost 600 years. There's a relaxing ambience and always a few colorful locals, and it has some of the best gastro-pub food in the capital. It is also known for its cask ales, Scottish gins, local cheeses and weekend breakfast menu.
https:://www.kingswark.co.uk
What to do
Castles and Palace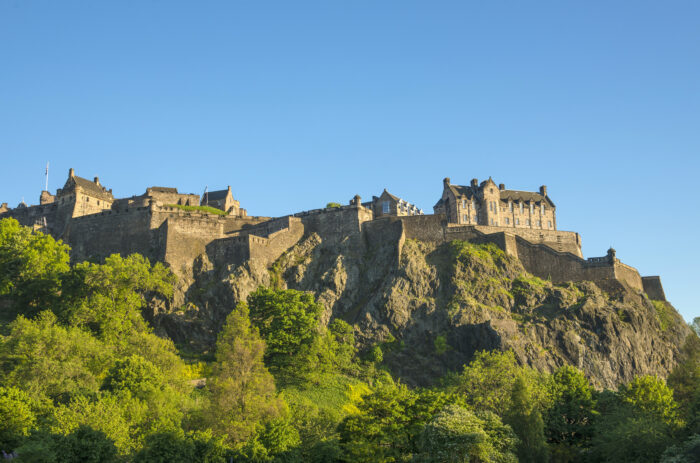 The dominating 12th century Edinburgh Castle offers gory dungeons, military museums, a 12th-century chapel and an array of historic halls to explore, and you can admire Scotland's Crown Jewels — the oldest regalia in Britain. Holyrood Palace — the Queen's official Scottish residence — is arguably the highlight of Edinburgh. It is most famous as the 16th-century home of the ill-fated Mary, Queen of Scots. Local travel specialist Sleigh's Scotland holds a Royal Warrant for outstanding service to the Queen, and it offers the unique opportunity to enjoy an out-of-hours private tour of the palace, including access to the private State Apartments. On the Royal Tour, you can also enjoy afternoon tea on the Royal Yacht Britannia. They are an excellent company to use for personalised tours all over Scotland. https://www.sleigh.co.uk
Walk the Royal Mile
There is plenty to see and do on the famed Royal Mile, so leave lots of time to explore. For a bit of history, head to St Giles' Cathedral, which is the High Kirk of Edinburgh founded in 1124; in the 16th century it was the focal point of the Scottish Reformation. In between shops selling whisky, tartan and fine cashmeres, you will find some wonderful pubs and restaurants, with lots of street artists and performers if you come during August — the month of the Edinburgh Festivals. This is the largest arts bonanza in the world with, for many, the highlight being the Royal Edinburgh Military Tattoo. Two museums of note on the Royal Mile are The People's Story, which tells the history of Edinburgh, and the Museum of Childhood — a wonderful collection of 18th-century teddy bears, beautiful dolls and early mechanical toys.
Whisky
Whisky is one of the first things that come to mind when you think of Scotland. This small country has a reputation for the best whisky in the world, and there's plenty to savor in the capital. At The Scotch Whisky Experience, you can learn how a dram is made, taste plenty of whisky and see the Diageo Claive Vidiz Collection, which is housed in a glass-and-marble vault and comprises nearly 3,400 bottles. Should you want a very special evening, you can arrange for a private five-course dinner within the vault. Nearing the bottom of the Royal Mile is The Holyrood Distillery — Scotland's newest — which offers tours and tastings. If you wish to venture further afield, there are 120 active whisky distilleries across the country you can visit.
Scottish sights
Local writer Robert Louis Stevenson (author of Treasure Island) once said, "Edinburgh is what Paris ought to be." Explore this historically important city and meander through the delights of medieval Old Town and to the picture-perfect Victoria Street and Grassmarket, rumored to be the inspiration for Diagon Alley in the Harry Potter series. See the elegant Georgian New Town, full of beautiful neoclassical architecture and charming streets to explore. If you're visiting on a Sunday, don't miss the Sunday Stockbridge Market for great food and crafts. And art lovers should visit the Scottish National Portrait Gallery and the Scottish National Gallery at the foot of The Mound.