Cambridge Under Covid – still inspiring
Delight in one of the most beautiful cities in Europe – the best of England….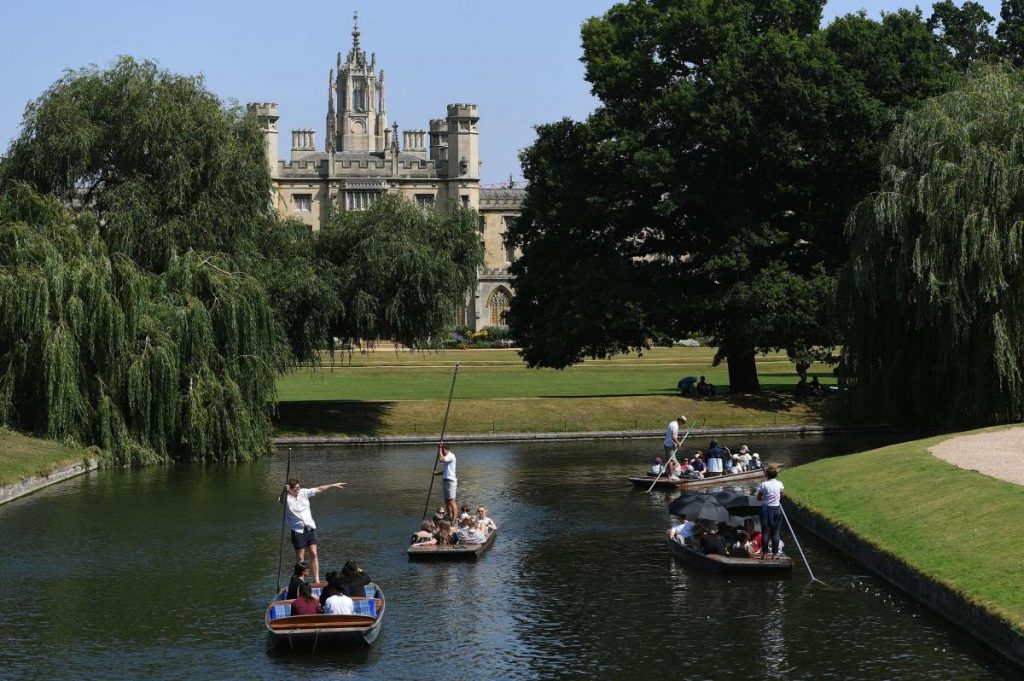 Having had no less than four foreign trips cancelled as the summer of 2020 ticked on, and the countries continued to click onto the quarantine list, I thought: "Stuff it (polite version), I'll just go somewhere in the UK". After a long think (the sun being a major factor in late September) I opted for Cambridge – a city I hadn't visited for almost 20 years.
What a great choice!
Cambridge under Covid – like everywhere – is not the same as before, but with booking one can still get into the magnificent Fitzwilliam Museum (one of the best museums in Europe) and of the 31 colleges, you can still get into King's, with its magnificent chapel and stupendous views.
Equally, you can still punt on the river, enjoy the eclectic shops, and eat in some brilliant restaurants.
Dodge the multitude of cycles (most Undergraduates have returned – Post-grads mainly working online from home) and then you can wander the medieval cobbled streets and soak up the atmosphere of one of England's most chocolate-box towns.
I stayed in the Gonville Hotel (https:://gonvillehotel.co.uk) which I would thoroughly recommend. It's a central 4-star property with lovely bedrooms and truly fantastic staff. They offer various categories of rooms, priced accordingly. If you can afford it go for one of their Feature Bedrooms which average £220 a night, but you can stay for almost half that price in a perfectly respectable room. Their breakfast is great and dinner in their restaurant is definitely worth the sampling. All in all, it's an excellent base for a stay.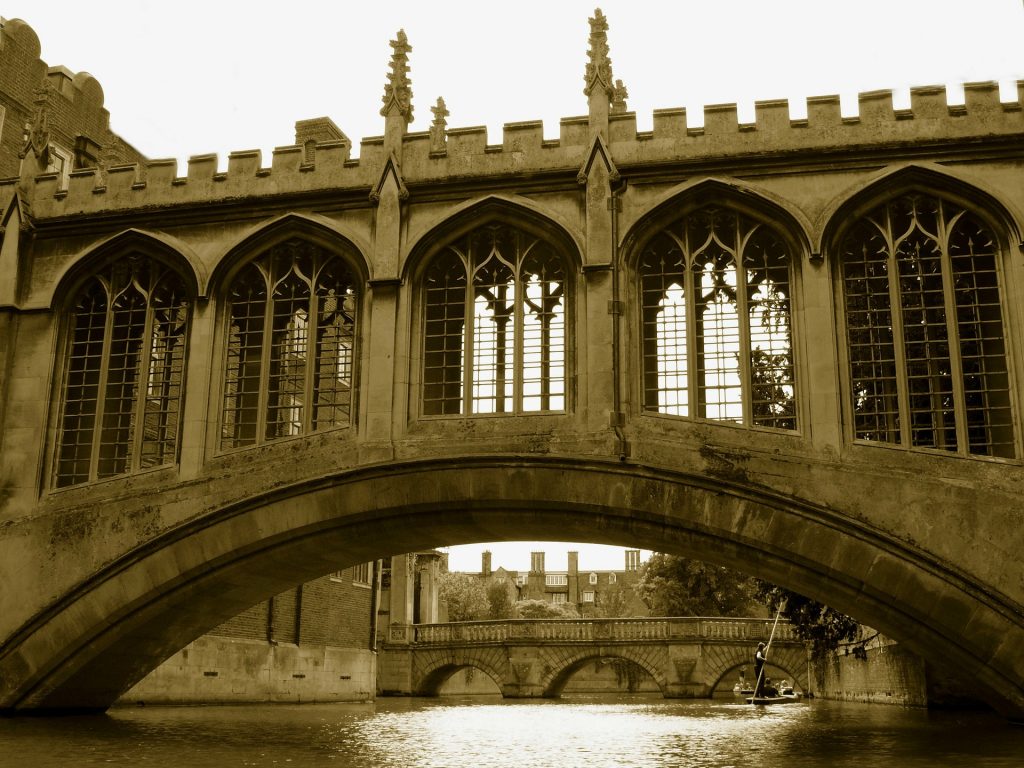 The hotel also has a spa and, to boot, two vintage Bentleys for their guests to enjoy tours of the city (as well as free bikes for the less fantoosh). If you choose the swanky option the Bentley-driver – one Elliot Murray – (complete with bowler hat) will swing you round the city to admiring glances and he'll tell you all sorts of facts about this amazing part of England.
In addition, in the hotel's beautiful garden they offer the Enchanted open-air cinema where you can enjoy a deck-chair movie with a cosy blanket, a massive screen and a local food van will come in to sustain you, along with quenching your thirst from their caravan garden bar.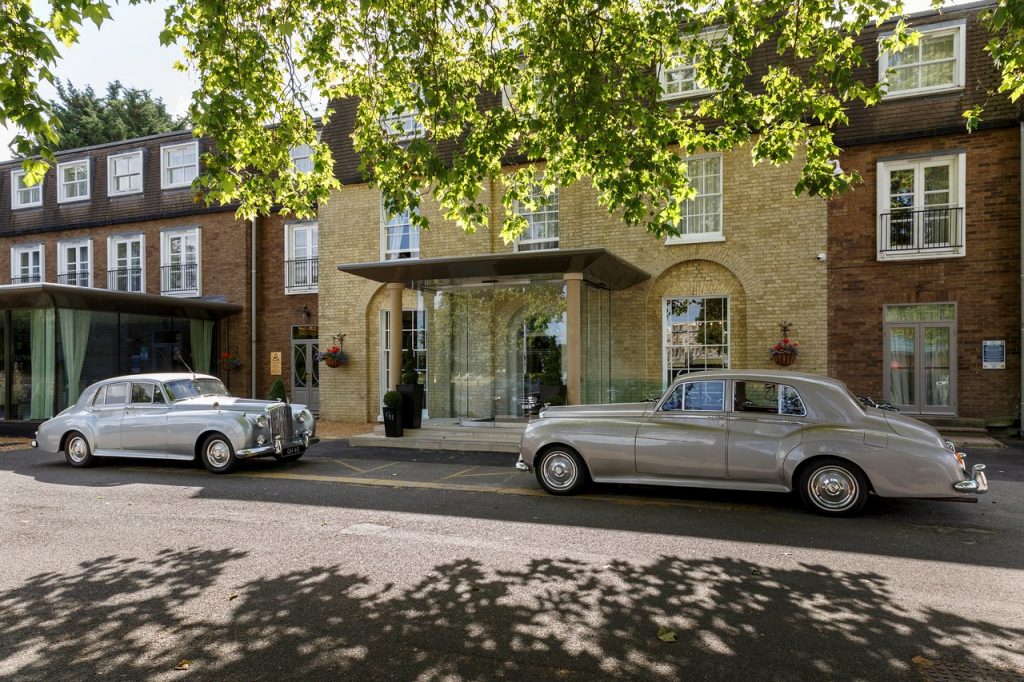 While I was in the outdoor cinema I met an interesting local guy who runs The Key to Cambridge. Basically you buy his booklet (sold at the train station etc) and then you make back way more than the tenner it costs you to initially buy as it gives you a variety of considerable discounts on restaurants, local shops, and a punting company Rutherford's, who also offer a fantastic romantic tour on the river https://www.rutherfordspunting.com and see https://www.walkingtalkingtours.co.uk / tel 07760 111259.
A good tour guide is hard to find but, as a veteran of well over 100, I'd thoroughly recommend Cambridge Tour Guides. In fact, I'd more than commend them – these guys are just plain marvellous.
Chris is an experienced Green Badge Guide and Tony is ex-alumni himself, and also the former head coach of Cambridge University Rugby Union Football Club. Formerly he worked in the University's estate's management for 30 years. They offer a range of tours from the general to science, ghosts, the Reformation, literature and sport. You honestly won't find two more entertaining and knowledgeable guys. See https://www.cambridgetourguide.co.uk
I pitched up for the walking tour to find two chaps in their mid-60s wearing multi-coloured stripey blazers.
OK, I thought, well, it is Cambridge, and at least I could spot them easily in the crowd.
My partner is a very experienced architect, yet nothing he threw at them phased them – they knew the lot.
I also went on a food tour of the city with the wonderfully eccentric Gerla de Boer, originally from Friesland in The Netherlands. She is a passionate foodie and ex-professional cook. Over the two or three hours you spend with her you will dip in and out of shops and pubs to try samples of the city's finest goodies. She will also take you to some of the city's lesser known, non-touristy districts and is as knowledgeable as she is entertaining. See https://www.cambridgefoodtour.com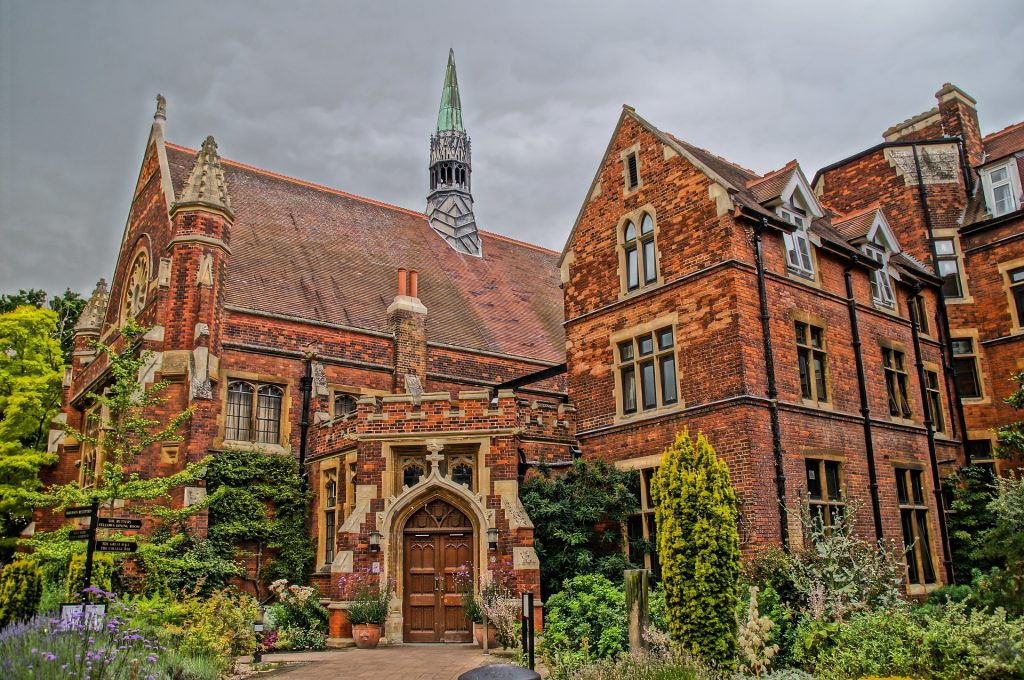 Among the places Gerla will take you is Fitzbillies for their legendary Chelsea bun; the Cambridge Fudge kitchen (too sweet for me); the Cambridge Market – great falafel, and so on.
It is a great idea to eat on the hoof while exploring the city with an expert.
EATING OUT
As for where to sit down and eat here are the city's best (in my estimation).
The Millworks (https://www.themillworks.co.uk). A great choice of food; relaxed atmosphere, inside and outside tables. Superb value.
For a splurge try Parkers Tavern (https://parkerstavern.com). Beautiful food, well-served and an up-market venue with a lot of history and class. Book this for your Saturday night out.
Cambridge Chop House (https://cambridgechophouse.co.uk/). Very chilled, great for carnivores and incredibly reasonable prices. https://9a12e4ce1dc2af249bc8b7e1c2a0bca9.safeframe.googlesyndication.com/safeframe/1-0-37/html/container.html
Equally good is the Cambridge Brewhouse (https://www.thecambridgebrewhouse.com). It's 'studenty' but even if, like me you're well, well beyond your Undergraduate years, you'll still feel comfortable. Great burgers, steaks and ales.
My favourite of all though was The Ivy Cambridge. (https://theivycambridgebrasserie.com ).
Similar to The Ivy in London and Edinburgh, the menu offers pretty much whatever you'd want, from lobster and fillet steak to fish and chips. It's just a beautiful restaurant. Book well ahead as I'm not the only one to think this.
You simply cannot go to Cambridge and not go on a punt. It's one of the best ways to see the amazing architecture of the colleges – especially now, when they are closed, due to Covid.
Scudamore's is the number one company in Cambridge. Their punters are chatty and experienced and it is a truly lovely thing to do as the sun sets.
Their punters have done their research and will point out to you which college the likes of Charles Darwin, Stephen Fry, Stephen Hawking and Hugh Lawrie attended. They also have many good tales of the crazy College Roof Climbers who (hopefully when not zinged out on anything, for their own sakes) undertake this ritual of jumping between the college roofs.
The open-air market is worth a look as they do have some decent produce and then you can witness some of the street performers from hell. Don't know his name as he was on a tightrope about 20 feet up in the air playing an electric violin, so it wasn't really too convenient to ask (anyway, as a violinist myself I don't think I'd have been able to summon up the words as he was playing bad Irish jigs), but apparently he's a regular.
Whatever time of year you go to Cambridge, you can't fail to enjoy it.
While we can barely go anywhere else worth mentioning, it's a great option.
Wonderful city.
For further information visit www.love-cambridge.com